Mission, Strategy, and Core Values
Mission

Growing God's family by building Christ-centered homes.
Strategy
As a church family, and as individuals, we strive to see every believer participate in these activities.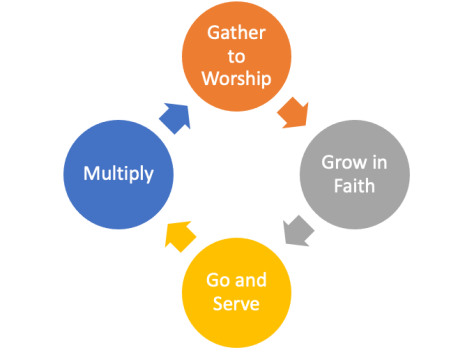 Core Values
We deeply value...


Connecting Generations
demonstrated by...


Helping parents lead their homes toward greater spiritual health

Practicing the belief that each person needs every generation to enhance their growth in Christ

Creating pathways for intergenerational worship and ministry experiences
Strengthening Relationships
demonstrated by...
Guiding people to grow in their walk with Christ as the foundation on which to build all other relationships

Moving from Sunday morning acquaintances to everyday friends

Deepening connections through transformational discipleship
Working Together
demonstrated by...
A cooperative commitment to leverage our individual strengths

Collaborative effort to achieve common goals

Clear communication to enhance teamwork
Transforming Communities
demonstrated by...
Sending people to make a gospel impact in our neighborhood and beyond our borders

Partnering with local organizations to identify and meet needs

Mobilizing members to invest long-term through specific ministries
Measures
We believe a fully-devoted follower of Christ will...

Listen to God.
We will spend time with God in prayer, Bible study, and worship daily.

Say yes to God.
We will follow God's plan for our lives today and tomorrow.

Make someone's day.
We will impact someone's life with the love of Christ every single day.

Serve our neighbors.
We will put others first by serving our local and global communities.

Take the next step.
We will be intentional in helping others grow as disciples of Christ.

Let us know you're coming! We'd love to meet you!